If you do your sermon preparation in Logos 7, you can export your sermon to Proclaim. Follow the steps below to learn how to create and publish a sermon using the integration between Logos, Proclaim, and Faithlife Sermons.
Create your sermon in Logos 7
Open the Sermon Editor in Logos by navigating to the Documents menu and selecting Sermon. Any headings, quotes, or Scripture references you enter here will be automatically converted into a slide. Highlight any other text you want converted to a slide and click the
 button to Add slides from selected text.
Note: to change the background of your slides, hover over the slide preview on the left of your text and select Edit. You can Choose media.
Want to add some notes to yourself? Add a Prompt to your sermon to insert a privately viewable message or reminder to yourself. This will not be rendered on your slides, but will be visible in your Notes if you're using a notes output or the Proclaim Remote.
Export your sermon to Proclaim
To export your sermon, select Export... in the upper right corner of the Sermon Editor pane and select Send to Proclaim. Follow the steps in the wizard to decide which presentation and group you wish to export the sermon to.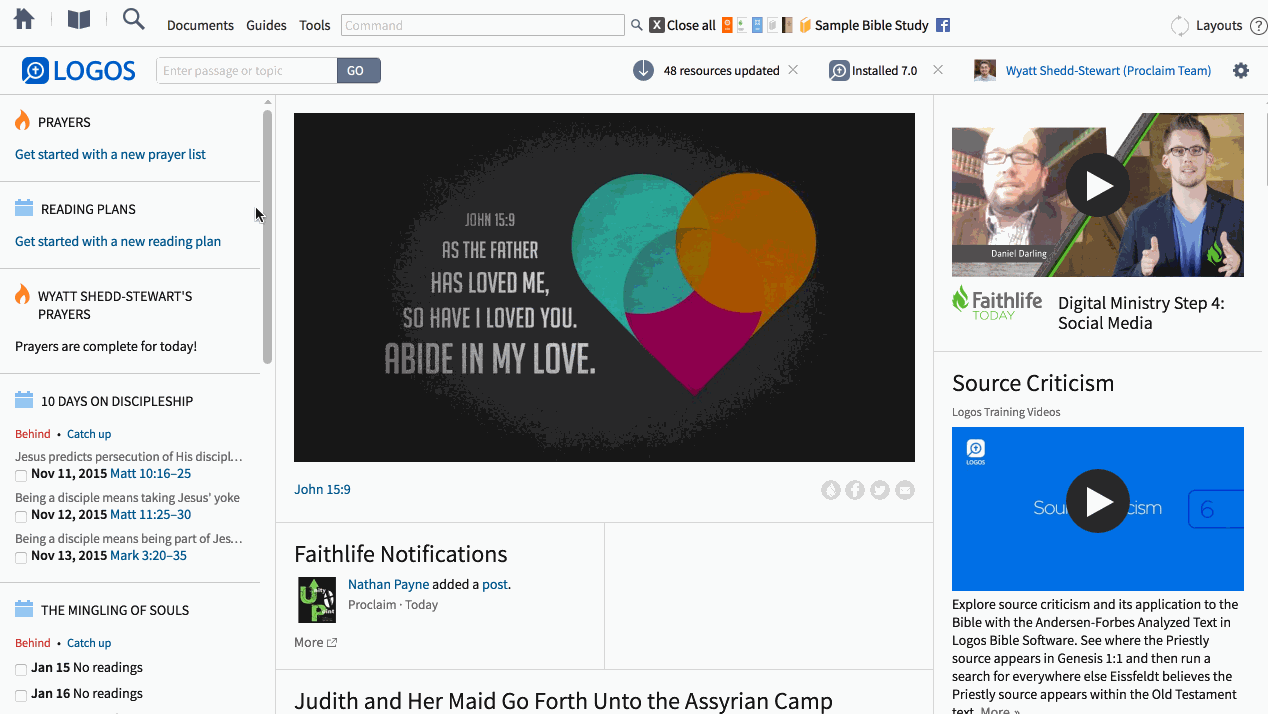 Did you know? Exporting your sermon to Proclaim will automatically create a draft version of your sermon on Faithlife Sermons. 
When you're finished, open your presentation in Proclaim to view your sermon. You'll notice that the sermon section is collapsible in the order of service. You may want to do some further editing in Proclaim, or to add other customizations to your sermon slides.
Record and publish your sermon to Faithlife Sermons
Once you've published your sermon recording in Proclaim, you can locate it on Faithlife Sermons. The entire text of your sermon, plus all of the tags and references you entered, was created as a draft on Faithlife Sermons when you exported your sermon from Proclaim.
You can view this draft by viewing your Profile in the upper right corner of the screen.
Once you've published your recording from Proclaim this drafted sermon will be published alongside your audio and slides.