Want to fade-in text on a slide? Or maybe you need some fill-in-the-blank text to create anticipation, or to emphasize your main point. Proclaim includes text editing tools that allow you to animate your slide text or quickly add a Bible verse reference. Click the links below to see how each one works. 
Create a manual slide break
Everything you add to your Proclaim presentation is part of a service item. Each service item can contain one, or multiple slides. For content service items you can insert slide breaks, allowing you to retain all of your text in the same service item, but on multiple slides.
To get started, create a content service item from the Add Item menu at the top of the main app window.
Move the cursor to the location you wish to create a slide break and click the
 slide break button.
Did you know? You can manually insert two dashes -- to add your own slide breaks.
Fade-in text
You can fade in additional lines of text on any Bible or content service item. Fading in text is especially useful for bulleted or numbered lists to make your message more powerful to your audience.
To use text fading, prefix each line you would like to have revealed with the ++ string. The text fade will use your presentation's current transition effect.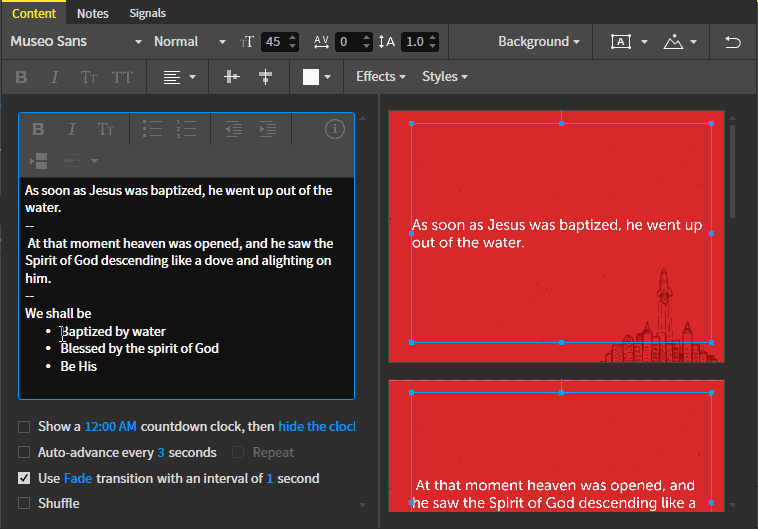 Click here to learn more about what you can do to create effective sermon slides from the Proclaim Blog.
Fill-in-the-blank
Fill-in-the-blank hides a portion of text on a slide and fades it in when you're ready. Much like fade-in text, filling in the blank emphasizes a word or phrase in your sermon to make it more powerful. To enable fill-in-the-blank, enclose your text elements in underscores (the _ symbol) as in the demonstration below: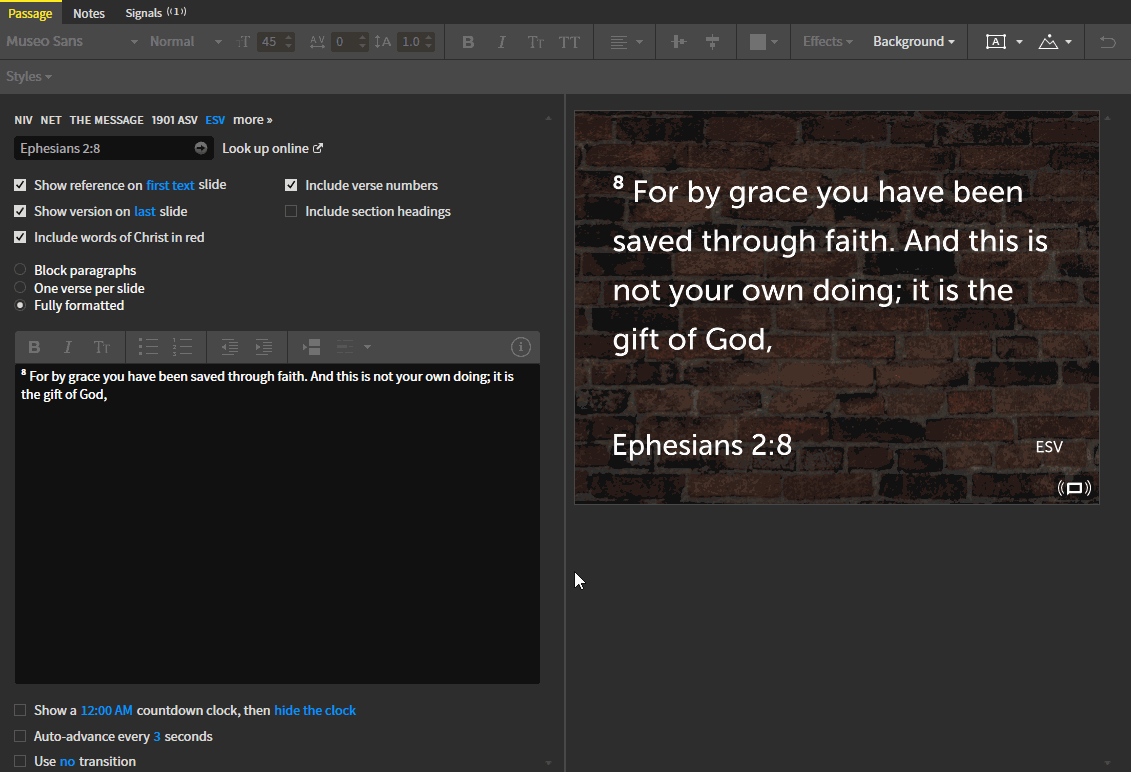 Did you know? You can use emphasis text to change the color of the underline. Highlight the underscore at either end of the text string and enable emphasis text.
Want to change the color of the text but not the underline? Highlight the text without the underscores and enable emphasis text. Add this or other text effects to create a powerful, memorable sermon. See it all in action here: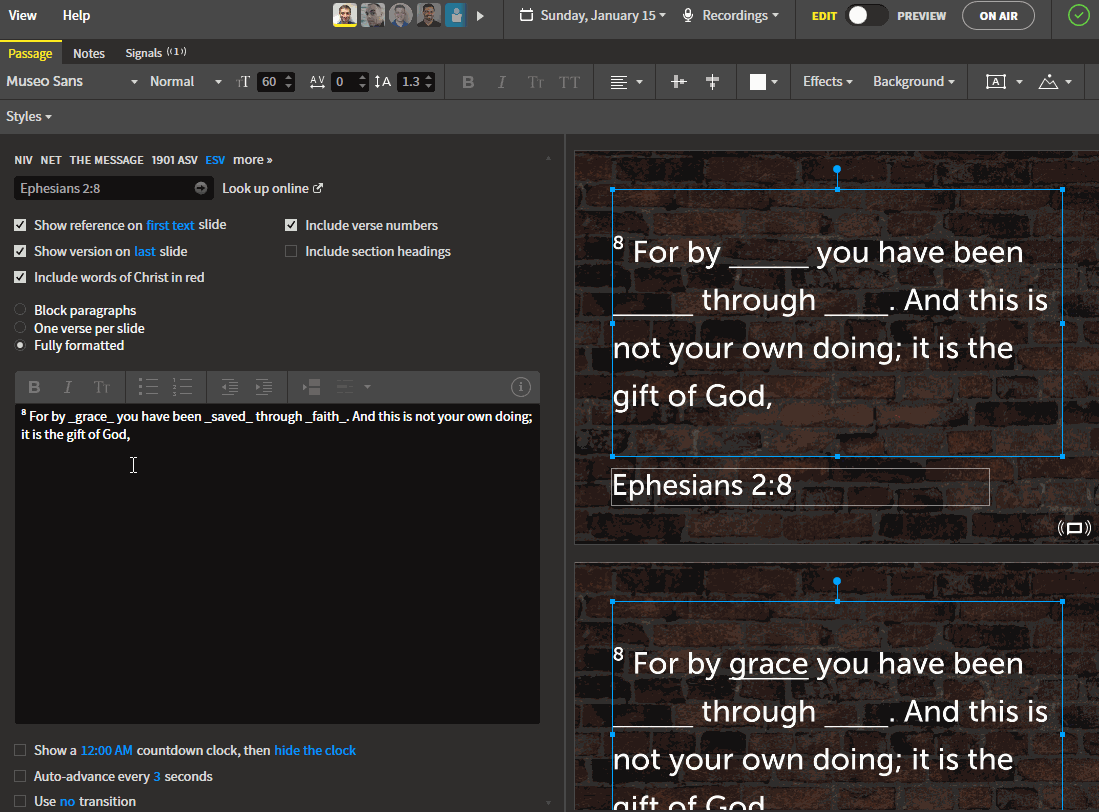 Embedded Bible references
With embedded Bible verses you can add any verse to a Content service item without copying or pasting anything. Start by creating a Content service item and choose your desired background. Type in your reference surrounded by a set of double brackets (e.g. [[John 3:16]]).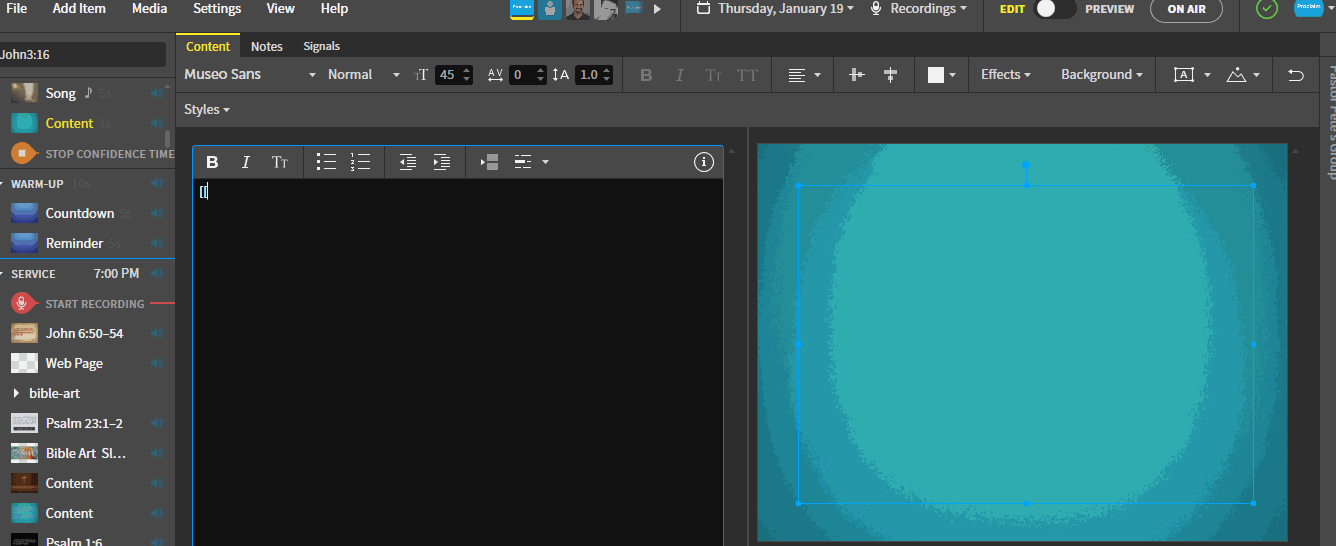 Want to add multiple verses? Proclaim will automatically create as many slides as it needs to display the Bible reference.
Enter a blank line into a song
Say you want to put some space in the middle of a chorus or verse. You can enter a blank line in a song item without starting a new slide.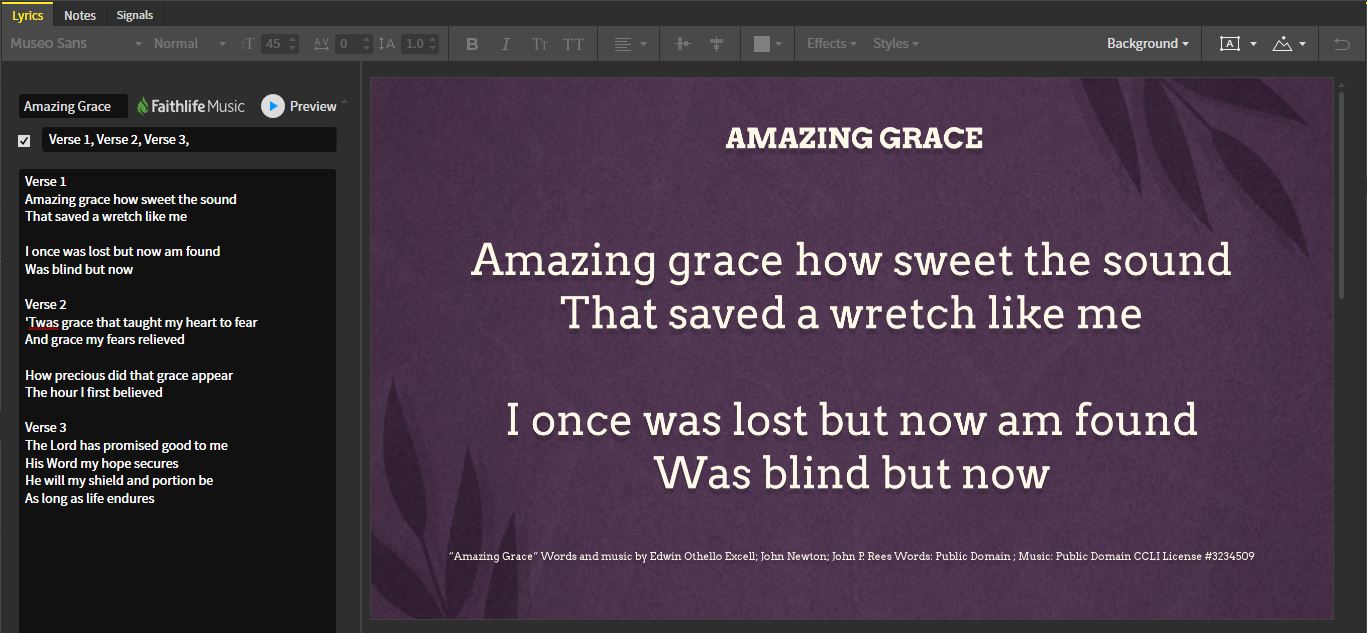 Start by creating or choosing a song service item, then click where you'd like a blank line. Press Shift + Enter, or Control + Return on Mac.