Faithlife Bulletins are a feature of Faithlife church groups that allow your congregation to follow along with your presentation on their phones, take live surveys, download contact information, and fill out a contact card. Every time you create a Proclaim presentation, a bulletin is automatically created for you. Publishing the bulletin for your congregation to consume is as simple as one click. Read on below to learn how to find and customize your church's bulletins.
Finding your Proclaim presentation bulletin
In Proclaim, open the presentation you wish to use as the basis for your bulletin. Navigate to the File menu and select View digital bulletin... from the list. This will open a draft version of your bulletin in a new web browser session.
The bulletin you're seeing contains all the same service items as your presentation, laid out and ready to go. To customize and publish the bulletin, read on here.
Creating your bulletin
Navigate to Faithlife.com and sign in using the same username and password you use for Proclaim. On the left side of the screen, click on your church group. If you don't have a church group, don't worry—you can create one in under a minute.
Select the Bulletins tab, then click the blue Create bulletin button. Now you're ready to start creating and personalizing your church's bulletin. Just like in Proclaim, you can choose either Edit or Preview mode while you're crafting the bulletin. Your first step is to select a header photo and fill in your church's information. You'll notice that some of this information populates automatically when you create your bulletin, saving you time every week.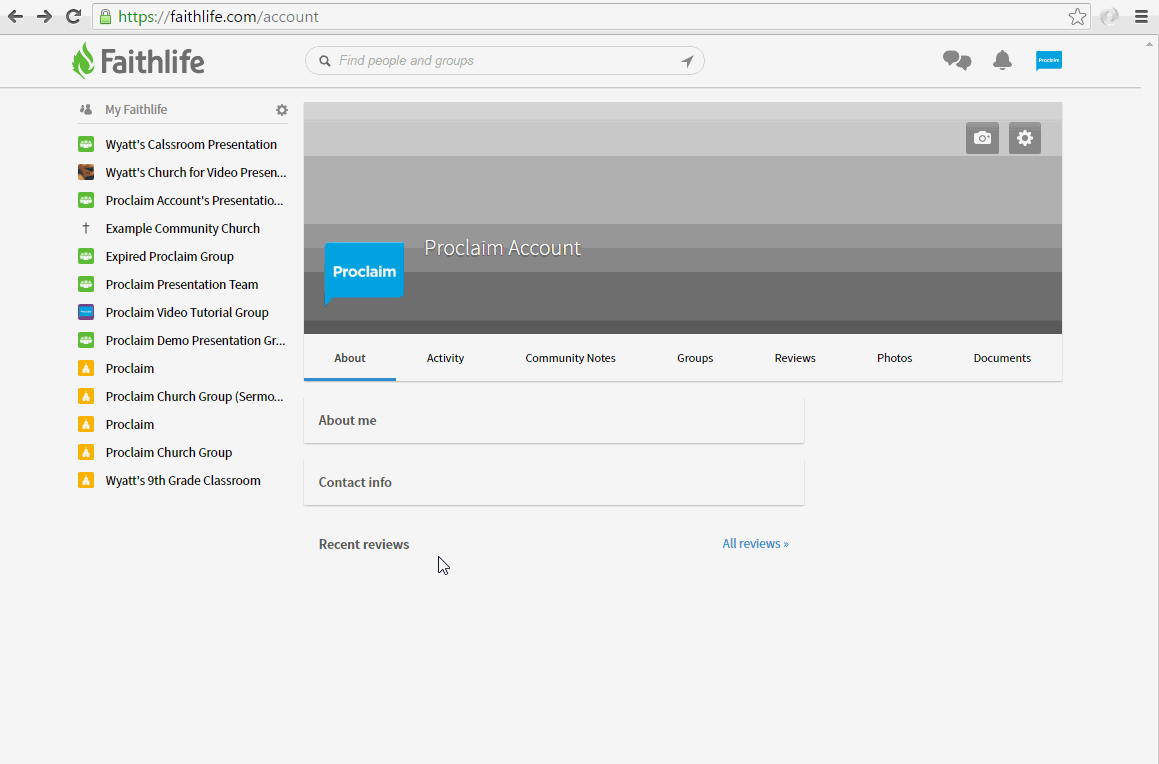 Tip: you can duplicate or download a bulletin you've already made by clicking the three dots to the right of that bulletin's name.
Personalizing your bulletin
Now you're ready to start adding customized sections. Click any of the options on the right side of the screen to add a new section. Add a text section for any announcements you might have missed in your presentation, or upload photos for your congregation to view with the Media section. Have an inspirational passage you'd like to include? Just type in the verse reference and the version of the Bible you use and it's ready.
Note: you can also drag and drop a section into the body of your bulletin.
If you chose to affiliate your church group with your Proclaim presentation group, you can drag and drop any of your Presentations into the bulletin.
Getting your bulletin out there
Once your bulletin looks the way you want it there are several ways to get it delivered:
Publish - makes your bulletin available to anyone online.
Print - converts your bulletin from a web page to a printable version you can hand out to congregants.
Copy to clipboard - selects all of the content of your bulletin in your web browser. Press Ctrl + C (⌘CMD + C on Mac) to copy the content and paste it into another application, such as Microsoft Word.
Tip: there are advantages to sharing your bulletin online. Congregants can click donation links, continue reading any passages that you've included in your presentation, and fill out surveys/contact cards to send directly to you!
Any signals that you've used in your presentation will be available in the church bulletin, meaning that members of your congregation can quickly download a calendar event you've announced, then add it to their personal calendar so they don't forget. Signals will appear in place of, not in addition to, the slide.