Proclaim's custom verse bar offers you a way of creating song slides that is quick and efficient. Create a song service item and select the song you would like to add to your presentation.
Beneath the title of the song is the verse order. Craft your own sequencing in this bar and Proclaim will create your song slides in the order you've specified. Type in the order, or select an option from the dropdown menu.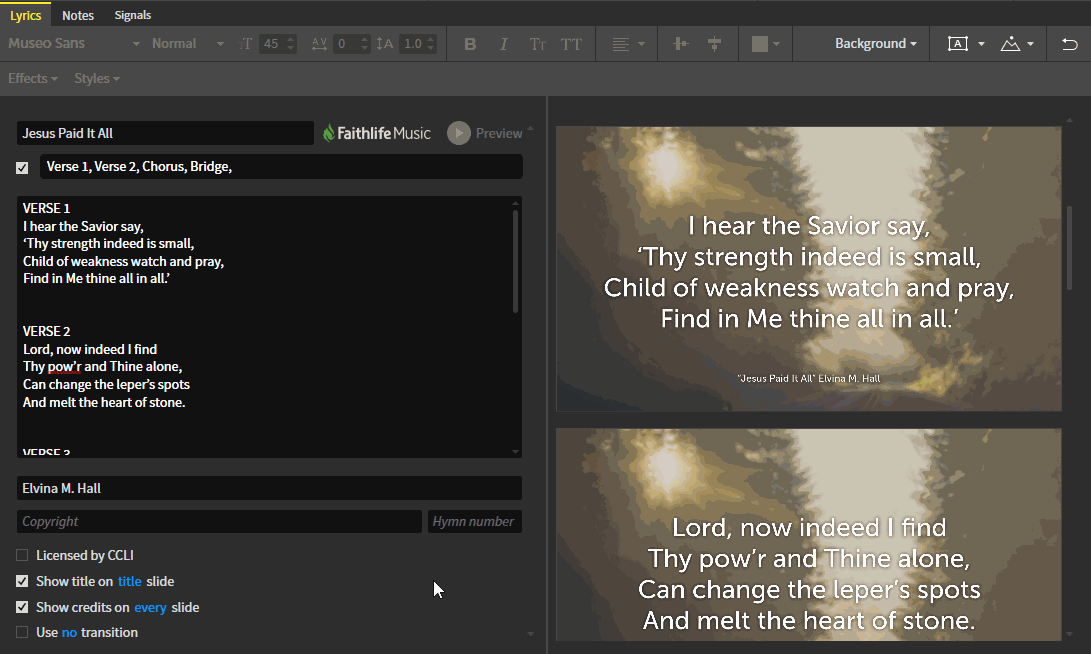 Did you know? You can create a custom verse name that is not included in Proclaim by adding brackets to that label. Bracketed verse tags will appear in the custom verse bar.
Proclaim also permits certain shorthand notations for quick use in the custom verse bar. Here is a full list of options and their shorthand notations you can use:
| | |
| --- | --- |
| Custom verse tag: | Shorthand notation: |
| Verse | V, V1, 1 |
| Chorus | C1 |
| Prechorus | P1 |
| Bridge | B |
| Tag | T |
| Interlude | I |
| Blank | B (will prioritize bridge over blank) |
| [Custom] | First letter of custom tag |
Visit the Proclaim blog for helpful tips to get your song slides looking perfect. 
Learn how to use custom verse shortcuts to move between slides on air from the Proclaim Monday Minute: