The Proclaim user interface is available in English and Spanish, and contains multilingual resources for you and your congregation. Proclaim comes built-in with a variety of Bibles and Biblical resources and can import scripture directly from Logos Desktop in another language. Access any of your multilingual Bibles on biblia, or create bilingual song lyrics using emphasis text. Whatever your needs are, Proclaim can suit them.
Choosing a language setting
In the main app screen, navigate to the Settings menu and select the General tab. Click the dropdown to select your language.
Note: changing the language setting will require you to restart Proclaim in order to take effect.
Multilingual resources in Proclaim
Create a Bible or On-Screen Bible service item and choose the Bible translation in the language you desire. Enter in the passage you would like displayed and Proclaim will format and attribute the Bible verse automatically.

Show a Bible verse with any background and the font updates automatically:

Can't find the language you're trying to type? Paste text from any language into the text editing field. Choose a background, and Proclaim will find a font and color to match.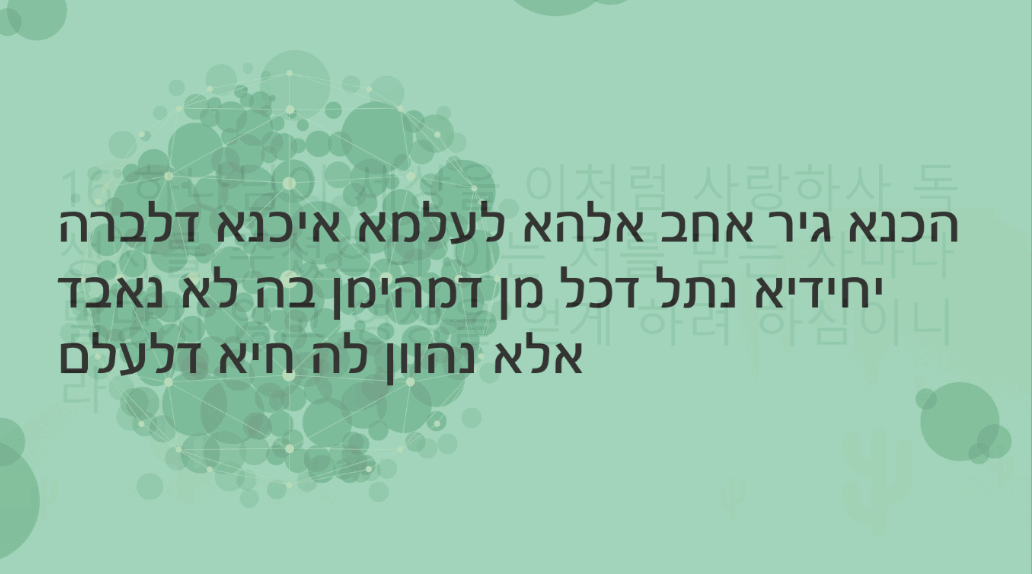 Looking for more non-English media? You can find beautiful Bible art in the Media Browser under the Collections folder. Bible art slides can illustrate a particular verse in your sermon, and they're perfect in an image slideshow. Select the language(s) of your choice at the bottom of the search filters and explore!