Proclaim comes with built-in background images and free Proclaim media in the Media Browser. Importing your own background files is quick, and once you're done everyone in your group will be able to use the images on their own slides.
Begin by navigating to the service item for which you wish to change the background. In Edit view, select Background above the slide view.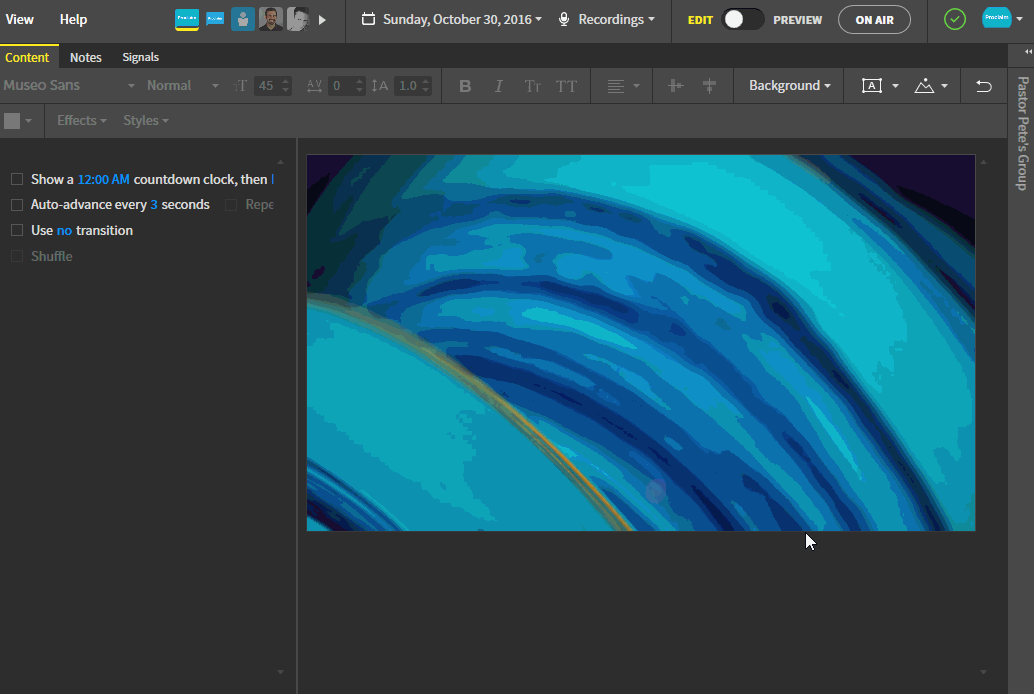 As well as a selection of standard backgrounds from which to choose, you can elect either to upload a file from your computer or to select one from the Proclaim Media Browser.
Select the transparent background to fill a color from the palette. Unfilled transparent backgrounds will show up as the output transparency color you choose in the Settings menu. Click here to learn more about background fill options and custom backgrounds.
Did you know? You can drag/drop and copy/paste images from your computer into Proclaim to set them as the background.
What backgrounds are available in the media browser?
The Proclaim media browser includes any media files you have uploaded to your group as well as an extensive library of material from a variety of sources. Explore Proclaim Pro Media and Partner Media, visit ministry channels, or link your Graceway account for more choices of backgrounds. This video has all you need to know about the Proclaim media browser:
Can I change my background directly from the media browser?
You can change your background image or video directly from the media browser. Navigate in the media browser to your desired background and select it with a left click. On the right side of your screen will be a description of the media item as well as several options to incorporate it into your presentation. To add this background to your current slide, select Apply to current item.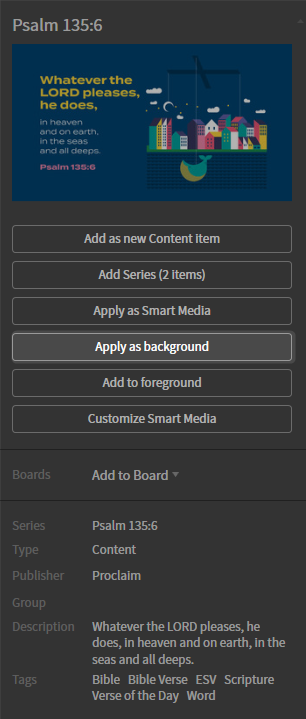 Did you know? There are several different options to create new service items in the Media Browser—the top button will add new slides to your presentation.
Can I change the background for multiple service items at once?
Yes, you can multi-select as many service items of the same type (e.g. content) and apply a background to all of them at once. To do so, hold down Shift while selecting a group of items from the Order of Service. Either by using the Background dropdown above the slide preview in Edit mode, or through the Media Browser, you can now set a background for all selected slides.
What are the suggested backgrounds I am seeing?
You may notice that once you have begun to select backgrounds from the media browser your Background dropdown menu will begin populating with suggested backgrounds below the standard backgrounds. Your most recent, most used backgrounds will appear in this location to save you time reapplying background images. Learn more from the Proclaim Monday Minute: