You can now use external MIDI devices to send commands to Proclaim, such as navigating slides, going On Air, showing Quick Screens and more! And you can use the devices you already have like an Ableton 25 Key, MIDI keyboard, or a MIDI foot pedal.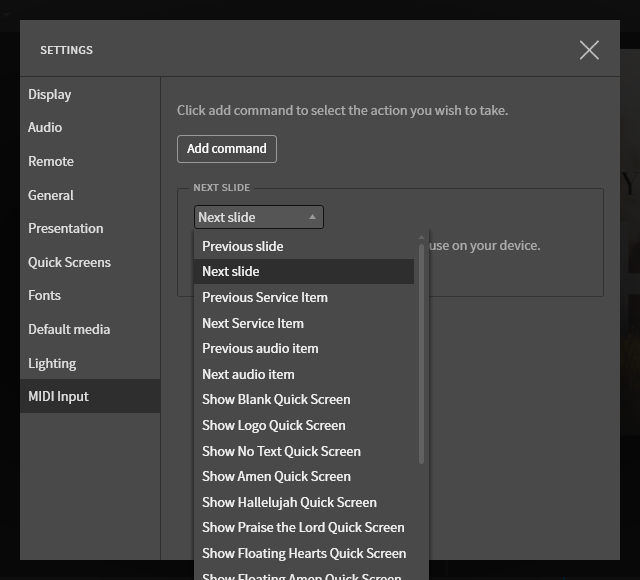 Set Up Your MIDI Device
All you have to do is plug in your device. Proclaim will automatically listen to all MIDI devices it discovers connected to your computer.
Note: The Windows version currently does not detect when MIDI devices are added or removed, so if a device is added while Proclaim is running, you will need to restart Proclaim before it will detect the device. 
Configure Inbound MIDI
To start, go to Settings > MIDI Input.
Here you will:
Add a command.
Select the desired command from the dropdown.
Push the button you would like to use on your MIDI device. If you want to set up the note yourself, click Enter manually.
Now, when you press the button you mapped on your device, Proclaim will execute the command you selected.
Proclaim supports Note on, Note off, and Control change MIDI messages. You can also change the channel Proclaim will listen to for notes, further expanding your options.