Creating an electronic newsletter through your Faithlife church group keeps your congregation connected with prayers, events, and information on community events. Faithlife newsletters are easy to create, and they're formatted to look great on both desktop and mobile devices. Read on below to learn more about how to create, customize, and publish your newsletter.
Getting started
Navigate to Faithlife.com and sign in using the same credentials you use to sign into Proclaim. Select your church group on the left side of the screen and navigate to the Newsletters tab. This tab displays a list of all your draft or published newsletters from the past. You can choose who receives your newsletters at the top of the list by clicking Edit subscribers.
Tip: you can duplicate a newsletter by clicking the . . . options next to it and selecting Duplicate. This is a great way to save time each week by using a template.
If this is your first time using Faithlife newsletters, click the Create newsletter button to get started. This will put you in Edit mode. You can preview your newsletter at any time by clicking Preview at the top of the screen.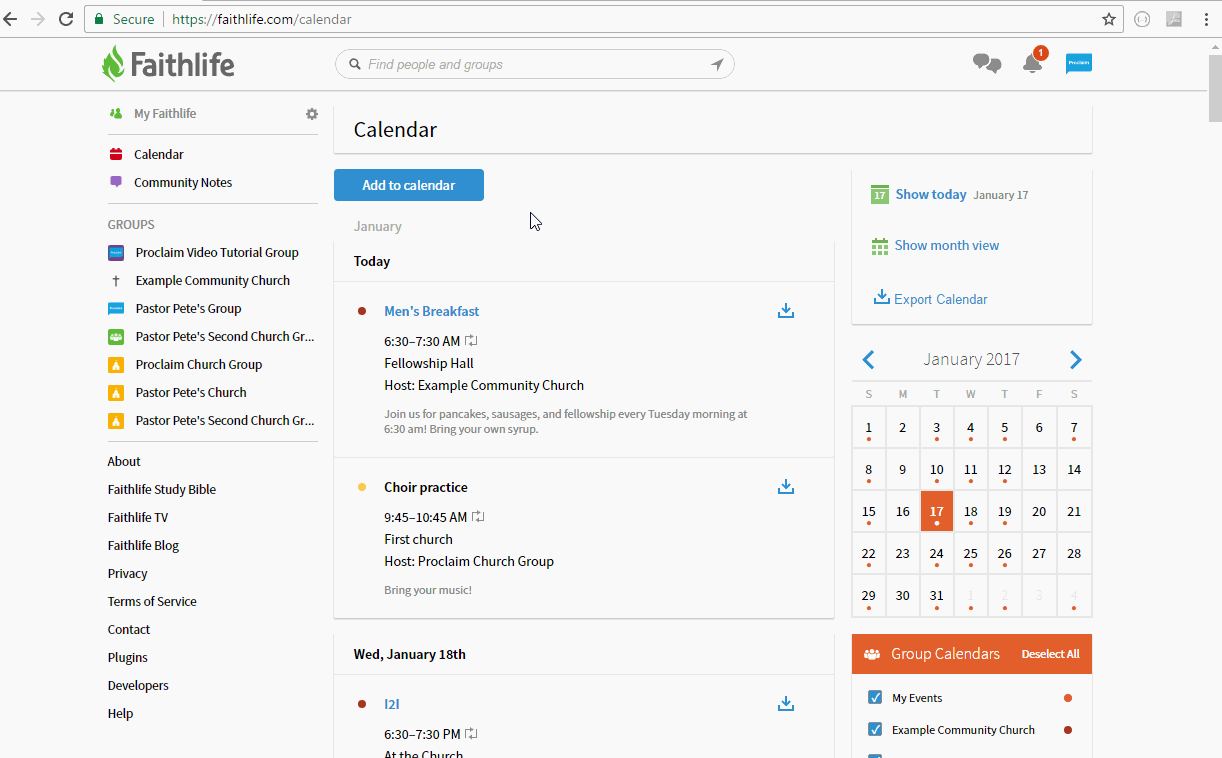 At the head of the newsletter you can set your cover image, which might be your church's logo, or a meaningful photo. Next, add a header and subheader beneath your cover image to identify your church or to send visitors a message.
Adding sections to your newsletter
Once you've established your header image and text, start adding sections from the right column to your newsletter. Each section has a heading, and unique elements listed below:
Text - your basic section which includes only text (and hyperlinks).
Media - supports images and .gif animations. All media can be played directly within the newsletter by members of your congregation, or in preview mode.
Prayers - if you have configured the prayers widget for your group (in your group's settings under the Sidebar tab), you can add prayer requests directly into your newsletter. Check as many requests as you want to appear in the final version.
Events - any Faithlife calendar events you've created for your group can be added to your newsletter with a single click.
Members - recognize members of your church group by searching for them, then add a heading to explain why you're recognizing them.
Groups - if you have another Faithlife group you'd like recognized, like a Youth Group, you can add it to a groups section.
Verse of the Day - free daily verse art from Faithlife with a memorable passage beautifully illustrated.
Community Notes - imported from the Notes tab on your church group's main page.
News - select any post published in the church group's news feed to highlight it. This is great for previous sermons recorded in Proclaim and published to Faithlife Sermons.
Tip: you can drag/drop sections within a newsletter.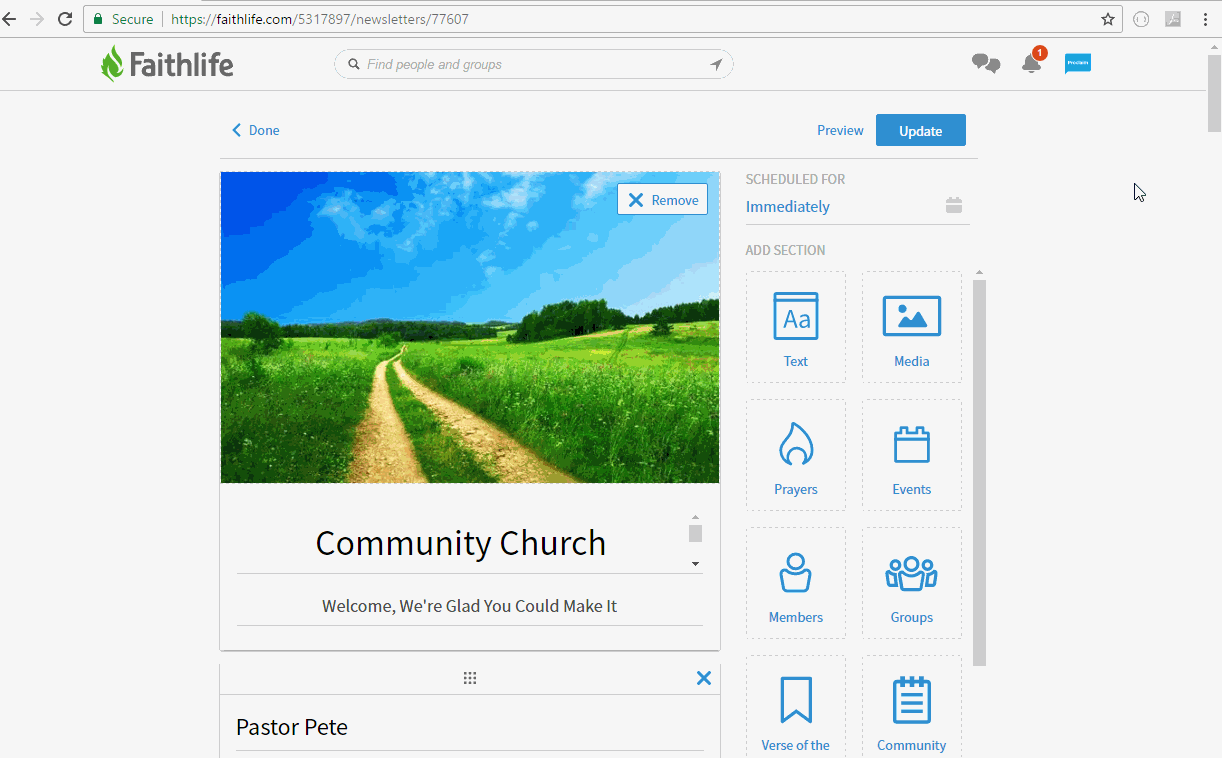 Publishing your newsletter
Once you're satisfied with the way your newsletter looks, set the date of publication in Edit view above the list of sections (the publication date can be immediate, or in the future), click Publish to send out your newsletter.
Remember: you can always update your newsletter post-publication.
Now that your newsletter is published, you can immediately view the number of recipients, as well as the open rate, by navigating back to the Newsletters tab.
Wondering how your newsletter will look on your congregants' devices? Newsletters are designed to look great on mobile devices: